NHM Vienna is given 19,000 bird specimens and celebrates with delightful fundraising gala
04. November 2022
The British Harrison Institute donated a scientific collection of 19,000 bird specimens, created by James Harrison (1892-1971) and his son Jeffrey (1922-1978) until the end of the 20th century, to the Natural History Museum Vienna. In celebration of this donation, but also in order to raise additional funds for the digitisation and scientific examination of this natural history treasure, the NHM organised a delightful fundraising gala on 3 November 2022. APA-picture gallery
Dr Paul Bates, the Scientific Director of the Harrison Institute, and Guy Harrison, a descendant of the British family of shipowners, were the guests of honour at the dinner in the museum's domed hall, which was impressively decorated with bird objects by Andreas Bamesberger. The intriguing "birds" made from blossoms, leaves and peacock feathers floated over the grand staircase and above the tables.

Dancers with and without disabilities from the cultural and educational association "Ich bin OK" created a touching overture to the evening with two dance performances celebrating the diverse and colourful nature of creation.

NHM Vienna Director General Dr. Katrin Vohland and Scientific Director Mag. Markus Roboch expressed their thanks to the sponsors Josef & Theresa Kling Gmbh & Co KG, PKE, Österreichische Lotterien, HS-Art, Da-Ka Hausbetreuung, Holzmanufaktur Auer GmbH, MF Mediate Systems GmbH, VerCon Wirtschaftsberatung GmbH, Netzwerk Technik Consulting, Facultas Verlags- und Buchhandels AG, VA Tec, Ing. Dieter Schumacher, Artaker GmbH, SLE Schuh GmbH, Zweigstelle Florale Konzepte, Foodaffairs and Wein & Co for their generous support of the evening.

Special thanks were given to the Friends of NHM Vienna Association and its Chairman Dipl. Ing. Harald Pflanzl (BASF), who funded and organised the shipping of a container full of bird specimens from Sevenoaks, Kent (UK) to the Natural History Museum Vienna. After the arrival of the container, which is expected for February 2023, Dr. Swen Renner, the head of the bird collection of the NHM Vienna, and his team can begin with integrating the specimens into the scientific collection of the NHM Vienna.

Among those enjoying the evening, which focused entirely on many-hued, colourful birds, were former Mayor of Vienna, Dr. Michael Häupl, Erwin van Lambaart, General Director and CEO of Österreichische Lotterien GmbH, Dr. Christoph Bazil, President of the Federal Office for the Protection of Monuments, Dr. Petra Eibel, Executive Director at VerCon Wirtschaftsberatung GmbH, Rüdiger Salat, Board Member of Facultas Verlags- und Buchhandels AG , Univ. Prof. Dr. Katrin Schäfer (Member of the Scientific Advisory Board and the Board of Trustees of the NHM Vienna) and numerous other guests.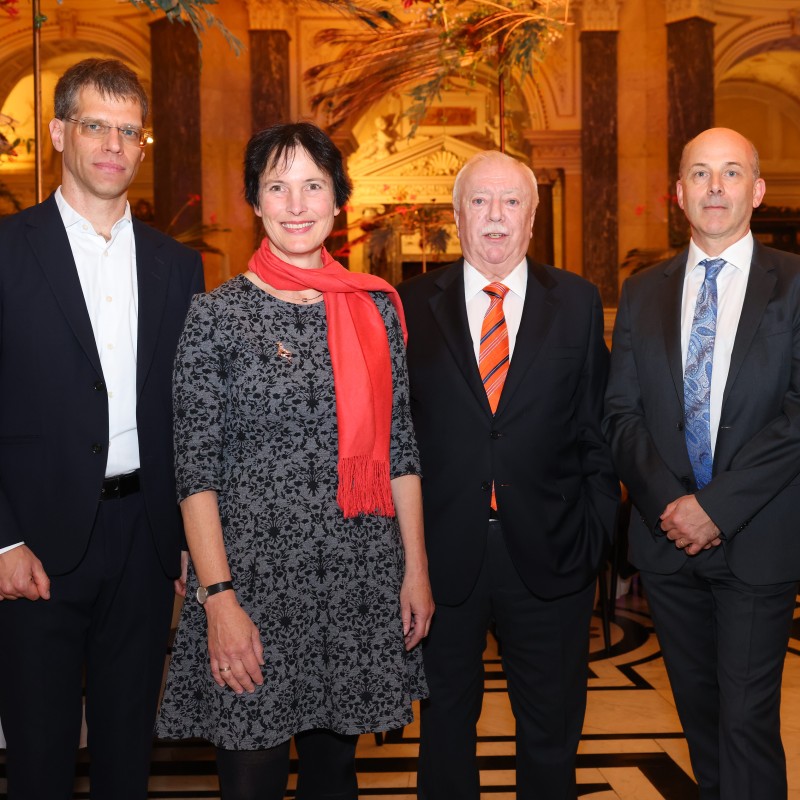 Fundraising-Gala at the NHM Vienna
v.l.n.r.: Dr. Swen Renner (Leiter der Vogelsammlung, NHM Wien), Dr. Katrin Vohland (Generaldirektorin NHM Wien), Dr. Michael Häupl (Bürgermeister a.D.), Dr. Paul Bates (wissenschaftlicher Leiter des Harrison Institutes), Mag. Markus Roboch (wirtschaftlicher Geschäftsführer NHM Wien)