Contact:
NHMW staff involved:
The Speleotect Network is a system of high-resolution 3D extensometers TM71, which monitor the present-day activity of subsidiary faults adjacent to major fault systems in the Eastern Alps. The network is a part of the global monitoring network Tecnet and the data are
available online
. The Speleotect Netwok has been continuously operating since 2013 and it was jointly financed by the Austrian Science Funds (FWF) project P25884-N29 Active tectonics and recent dynamics of micro-displacements along major fault systems of the Eastern Alps registered in caves –
SPELEOTECT
and the Institute of Rock Structure and Mechanics, the
Czech Academy of Sciences
.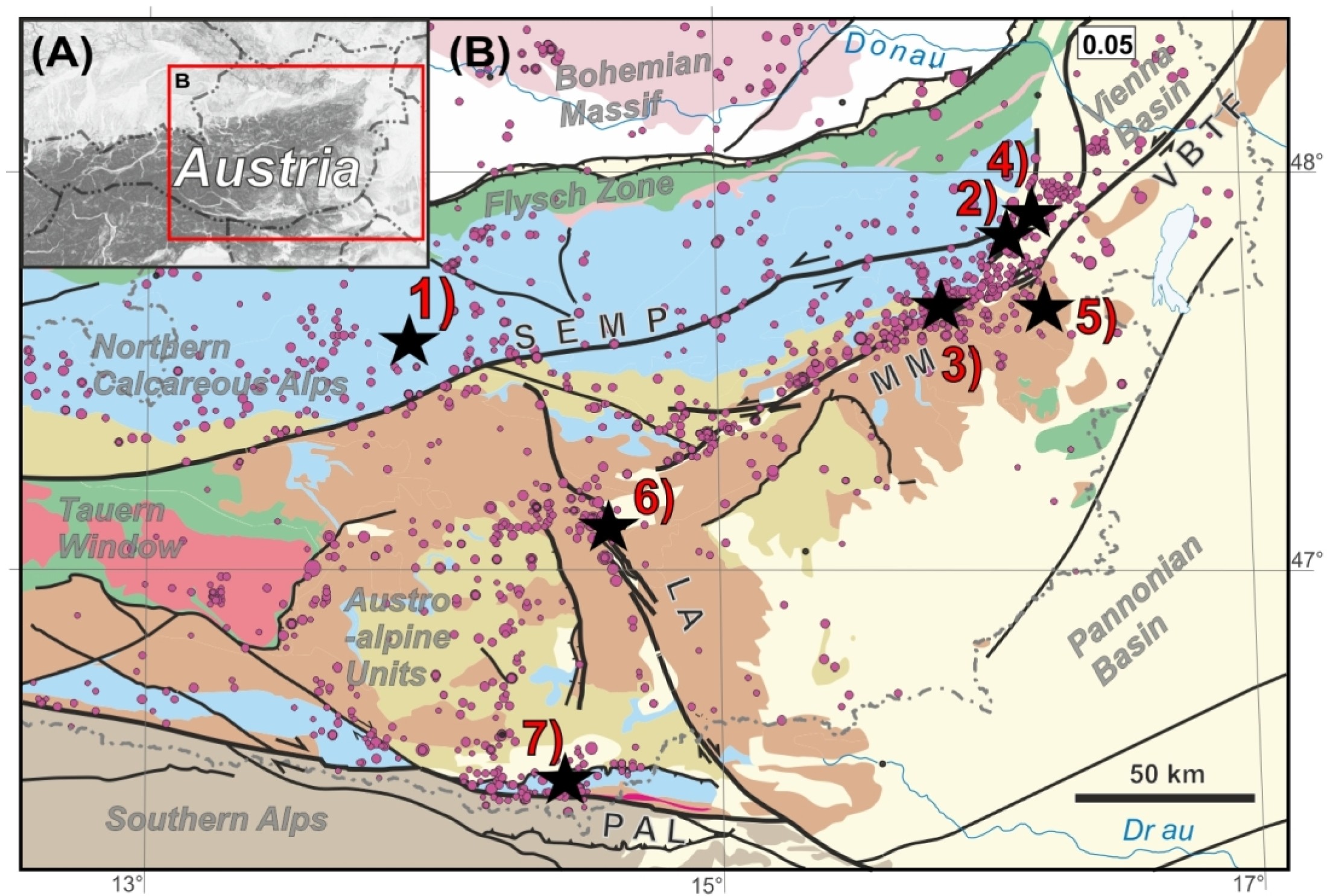 General settings of the SPELEOTECT study area: (A) slope map of Austria and the Eastern Alps with depicted detailed Figure 1 B, (B) tectonic overview map of the eastern part of the Eastern Alps (modified after Schuster et al. 2014) with presented the study sites,  earthquake epicentres (after ZAMG), and major tectonic fault systems, i.e.: SEMP – Salzach-Ennstal-Mariazell-Puchberg fault system, MM – Mur-Mürz fault system, VBT – Vienna Basin Transfer fault, LA – Pöls-Lavanttal fault system, PAL – Periadriatic Line fault system.
Acknowledgements
We are grateful to Peter Baumgartner, Jan Blahůt, Miloš Briestenský, Karl Filz, Zdeněk Fučík, Bernhard Grasemann, Karl Kolb, Norbert Kucher, Andreas Langer, Christopher Langer, Harald Langer, Rostislav Melichar, Ivanka Mitrovic, Franz Moitzi, Tomáš Nýdl, Pauline Oberender, Christa Pfarr, Johann Georg Pollerus, Martin Schmölz, Robert Seebacher, Luboš Sokol, Jakub Stemberk, Josef Stemberk, Hans Stieg, Christian Varch, and especially to Gerhard and Renate Winkler for their great support and help at the monitoring sites. Ewald Brückl, Kurt Decker, Helmut Hausmann, Wolfgang Lenhardt, Xavi Martí, Rudolf Pavuza and Matt Rowberry provided helpful advices, discussions, and feedback. The authors are thankful to the governments of Lower Austria, Styria, Carinthia and Upper Austria for providing high-resolution digital terrain models and to local authorities of Bad Eisenkappel, Judenburg, Bad Fischau, and Spittal am Semmering, and Forest Administrations of Emmerberg and Tauplitz for allowing us to install the monitoring devices within their properties.
List of the monitored SPELEOTECT sites
(modified after
Baroň et al. 2019
)
1. Bullenhöhle – Adjacent to the SEMP Fault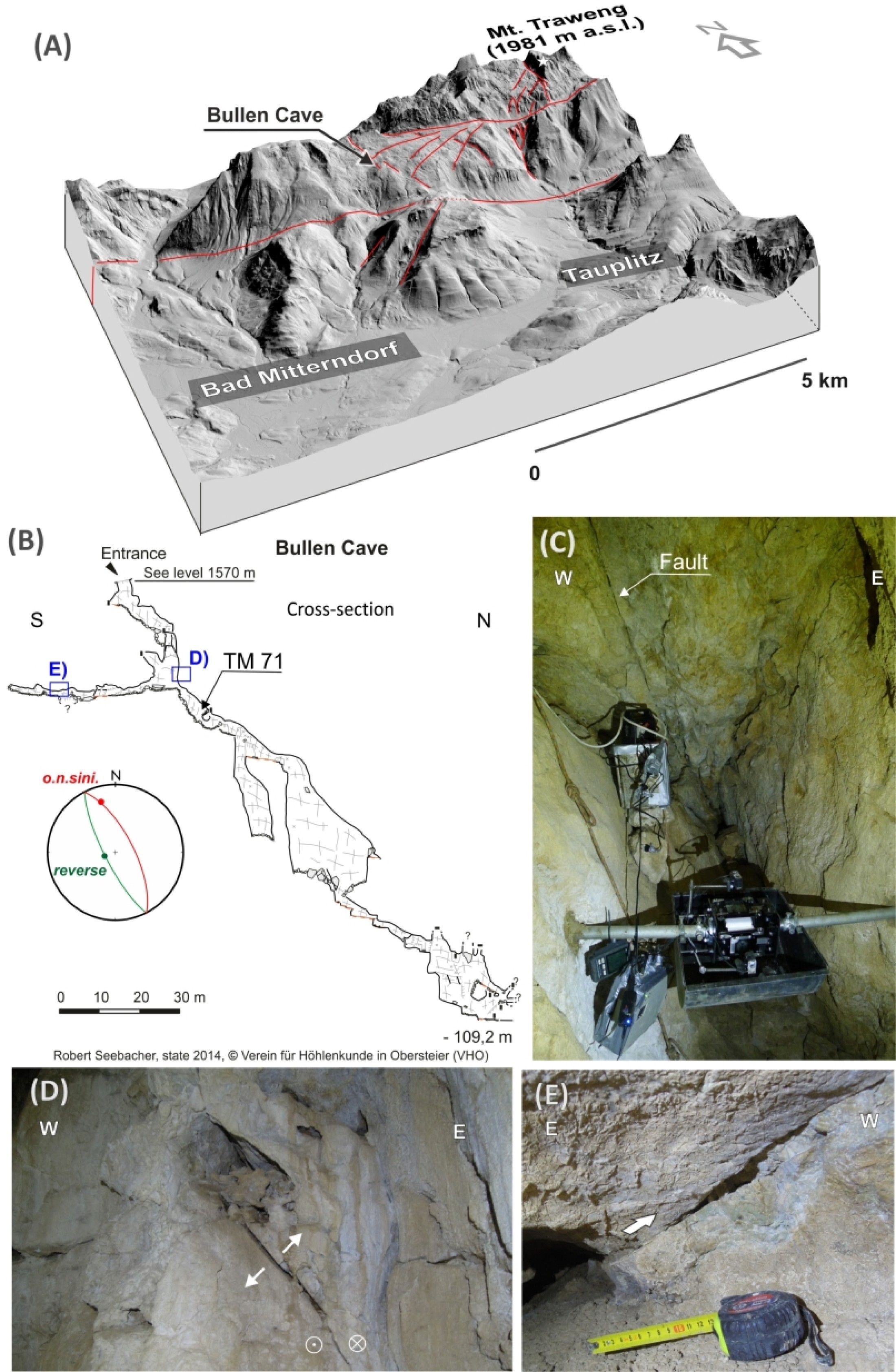 2. Emmerberghöhle – the SEMP Fault termination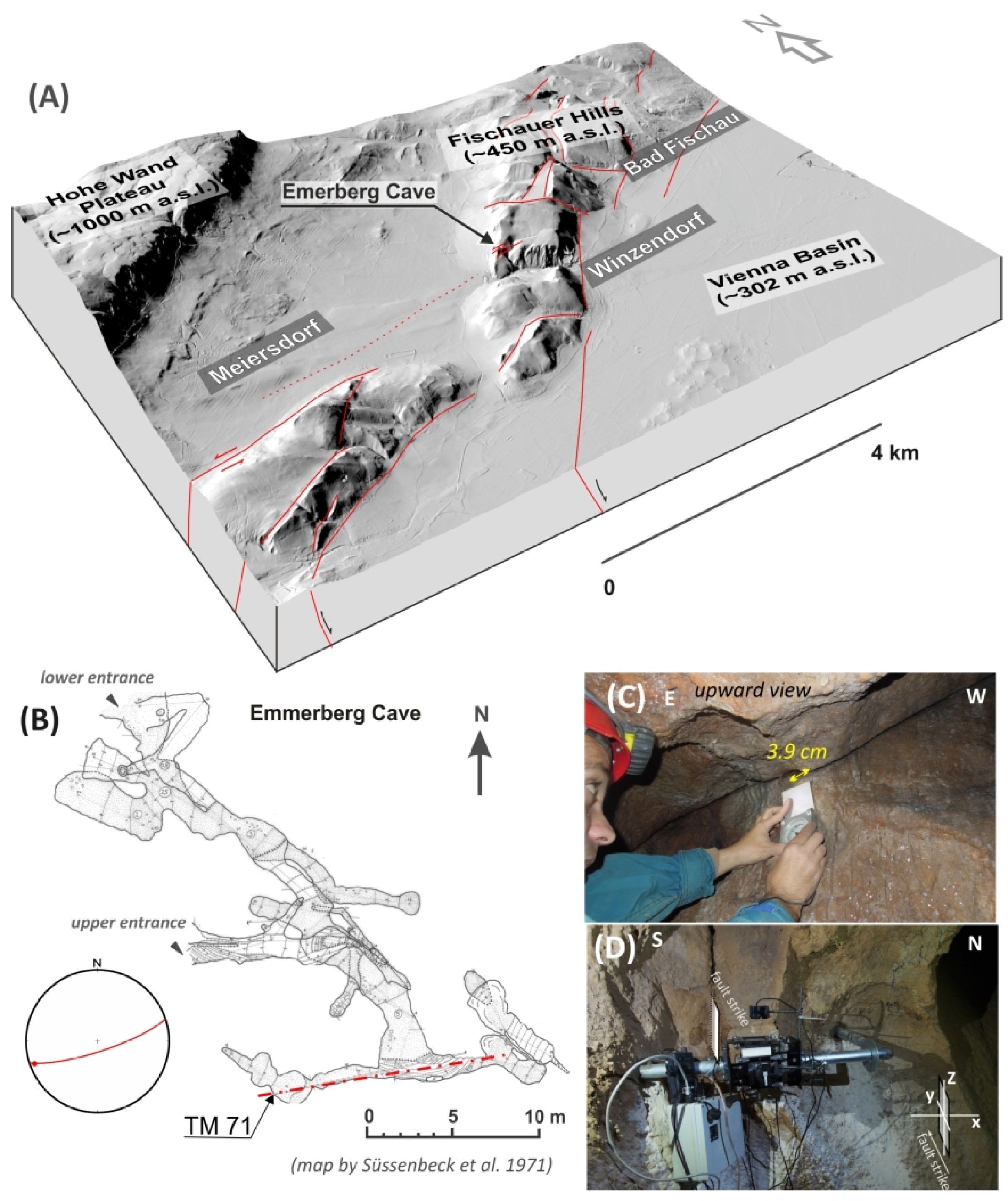 3. Zederhaushöhle – the Mur-Mürz Fault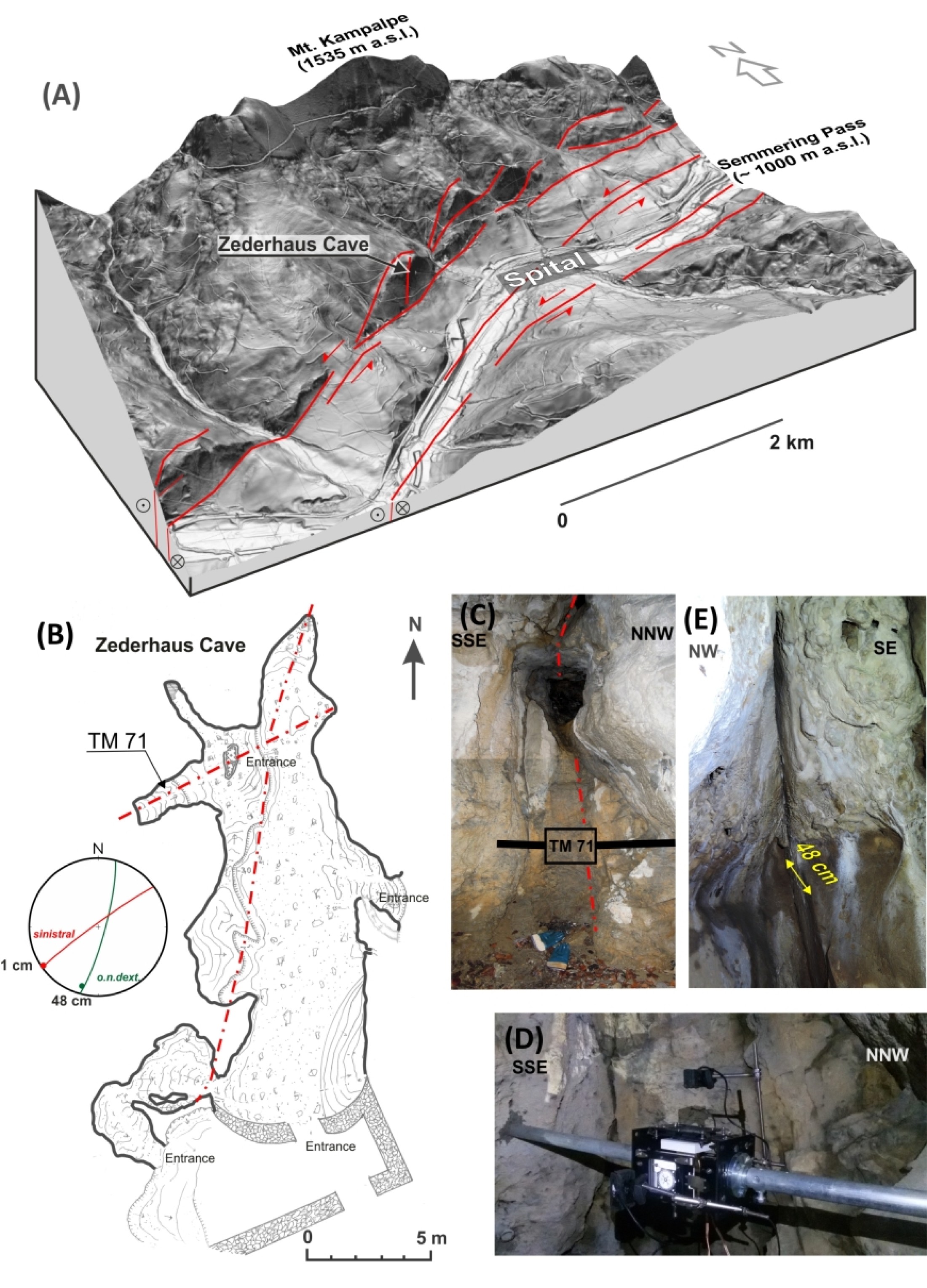 4. Eisensteinhöhle – adjacent to the Vienna-Basin Transfer Fault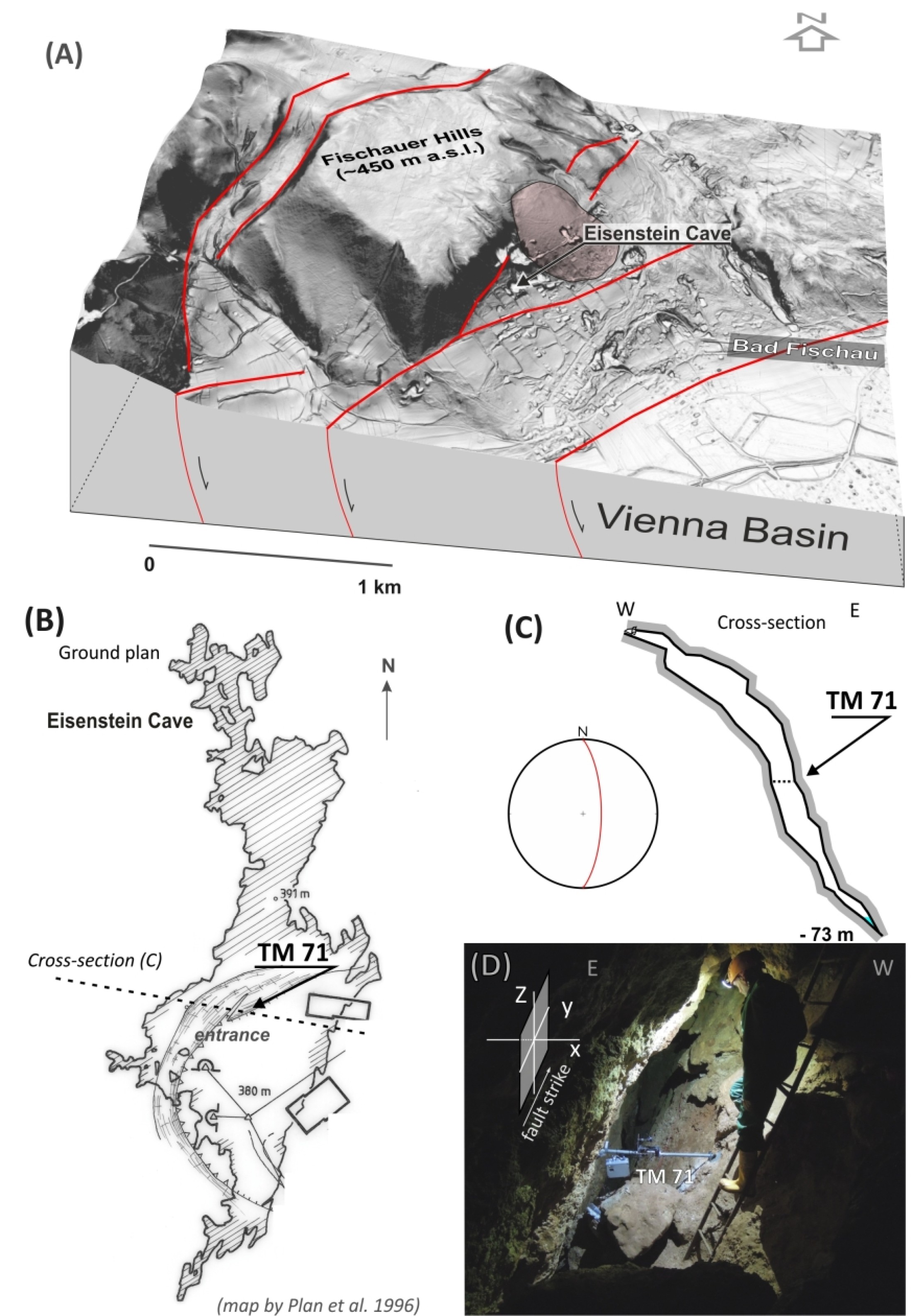 5. Altaquelle Höhle – adjacent to the Vienna-Basin Transfer Fault
6. Geierkogelhöhle – the Lavanttal Fault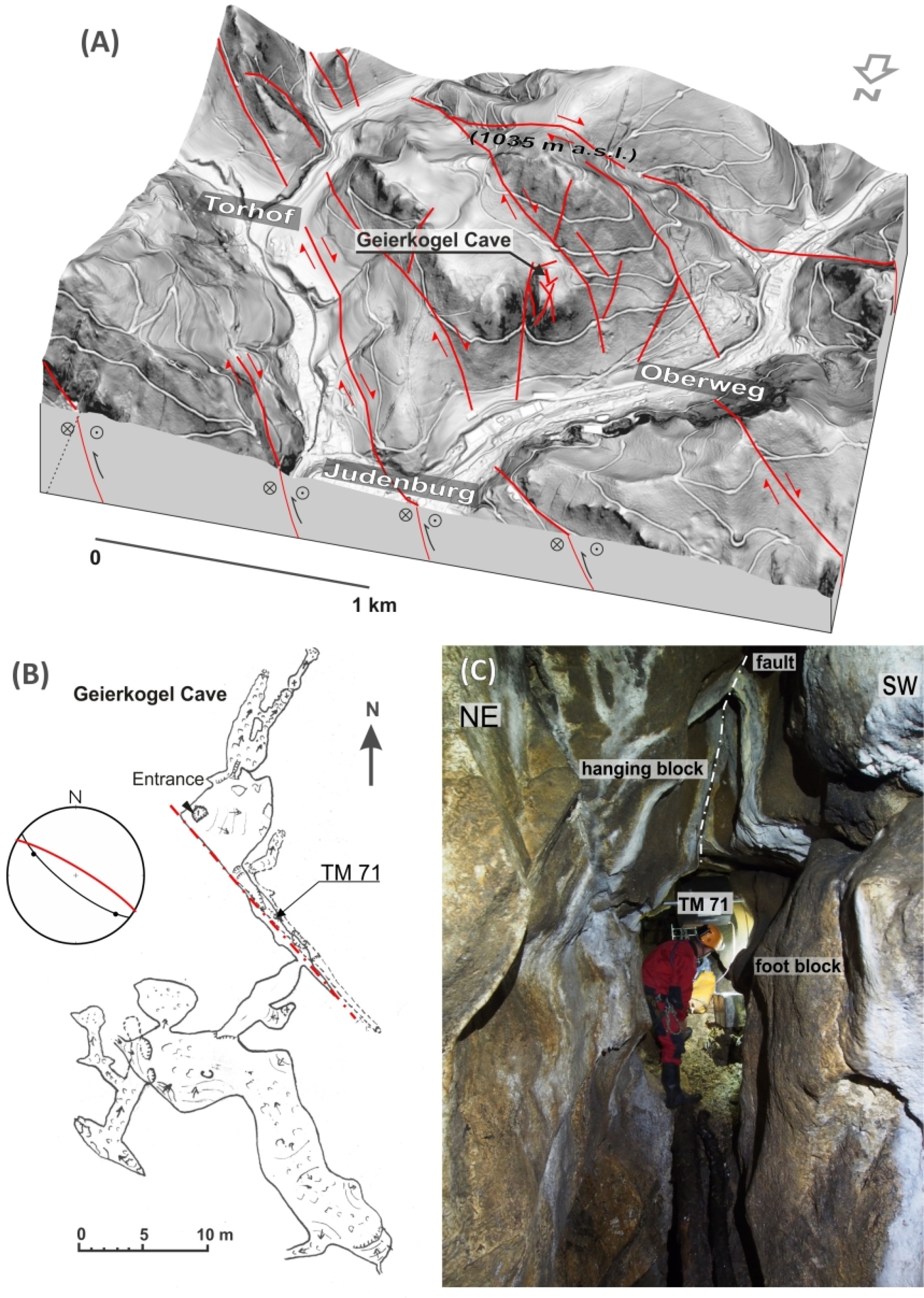 7. Obirhöhle – the Obir Fault as a part of the Periadriatic Line Fault system